The Story of Our Pool
We have been dreaming about a pool in the dive centre for many years. Our old premises in Aspley had some land behind it that we originally thought to use, however the planning authorities were unlikely to allow something of that nature in that location. Because of this, we decided to move premises. We viewed over 100 potential properties until we found a landlord that would allow us to build a facility for Scuba Training in their building. We found our new address and moved in March 2021 to Robin Hood Industrial Estate, however our plan to build an in-ground pool was quickly shutdown due to concerns from the owners. Another plan was needed, we decided that an above-ground pool was the only option. This was far from cheap and simple.
The first step was to convince the owners that it would not leak, or worse -burst and destroy the entire industrial estate. Then we needed to test if the concrete floor could withstand the great pressure of having such a large volume of water pressing down on it. We had an engineering company to come and take 5 core samples of the slab at various locations in the warehouse and sent the samples to a structural engineering firm for crushing and testing. The tests came back that 200mm Steel Reinforced floor was very strong at 61kn/m2 and we would load that floor with only 30kn/m2 utilising 49% of the capacity and passing the test.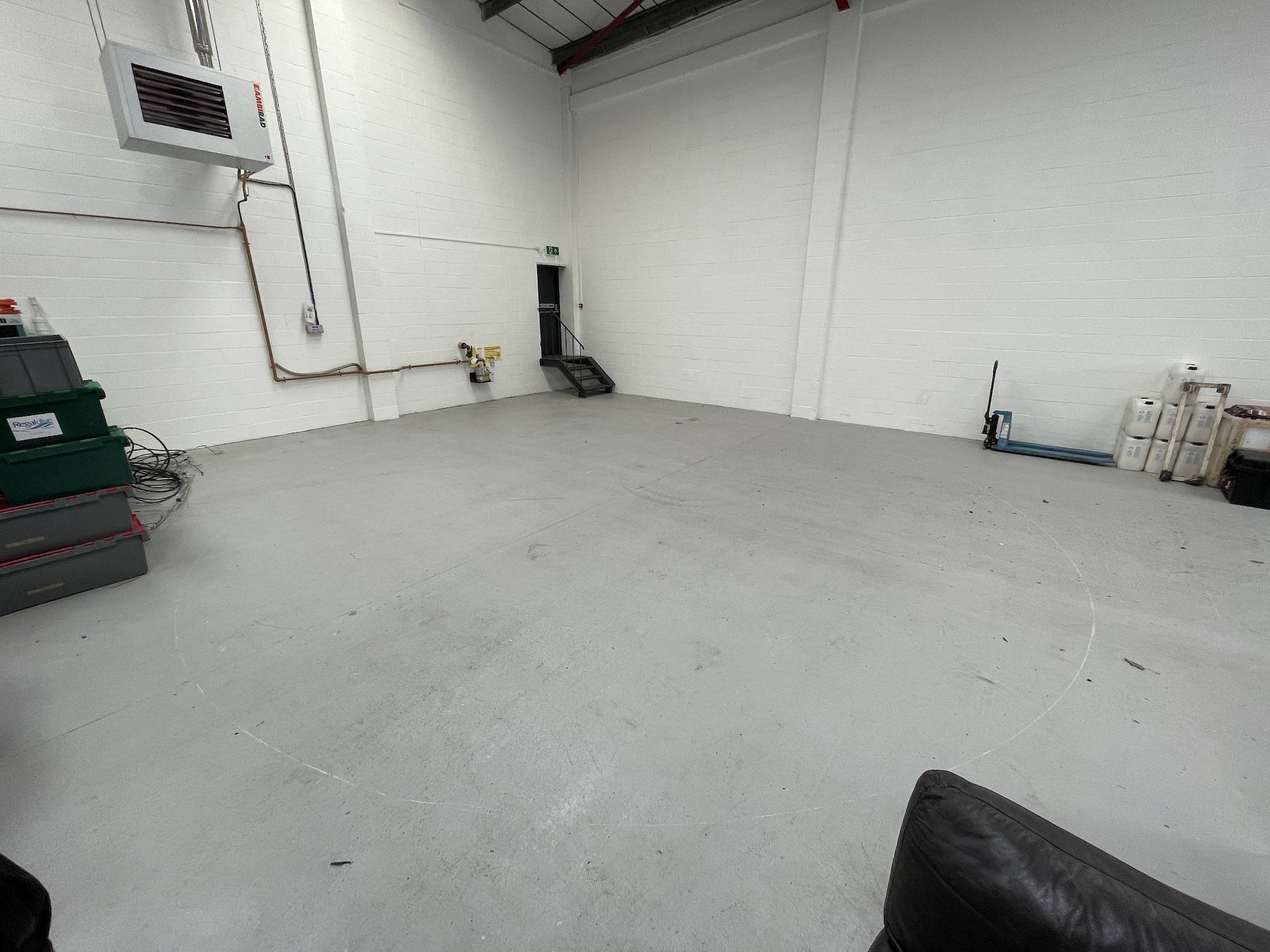 We instructed Balmoral Tanks, an industrial water storage tank manufacturer to give quotes for pools ranging from 3m deep and 5m in diameter to 10m deep and 20m in diameter. We measured the roof height of the building and at 7.5m we wanted to order a 5m deep tank. After looking at access solutions we could not find a way to get divers in and out of the pool safely while retaining the heat and moisture without having an airtight building enclosing the pool. We decided to mezzanine the entire workshop and have a cut-out for the pool and build a structure to enclose the pool on top of the mezzanine. The plan was settled and due to the floor support height, we needed to reduce the pool to 4m deep to allow enough head room when using steps to enter. Balmoral quoted us a cost of £35k plus £8k for a seal pour.
A seal pour is a fibre reinforced concrete screed that is put in the first ring of the pool with 3 Tons of steel mesh to help seal the bottom edge against leaks.
Having been told they were very busy, and we would need to wait 12 weeks for the pool to be manufactured and installed we set about preparing the building and utilities to ensure we could be ready for the next steps.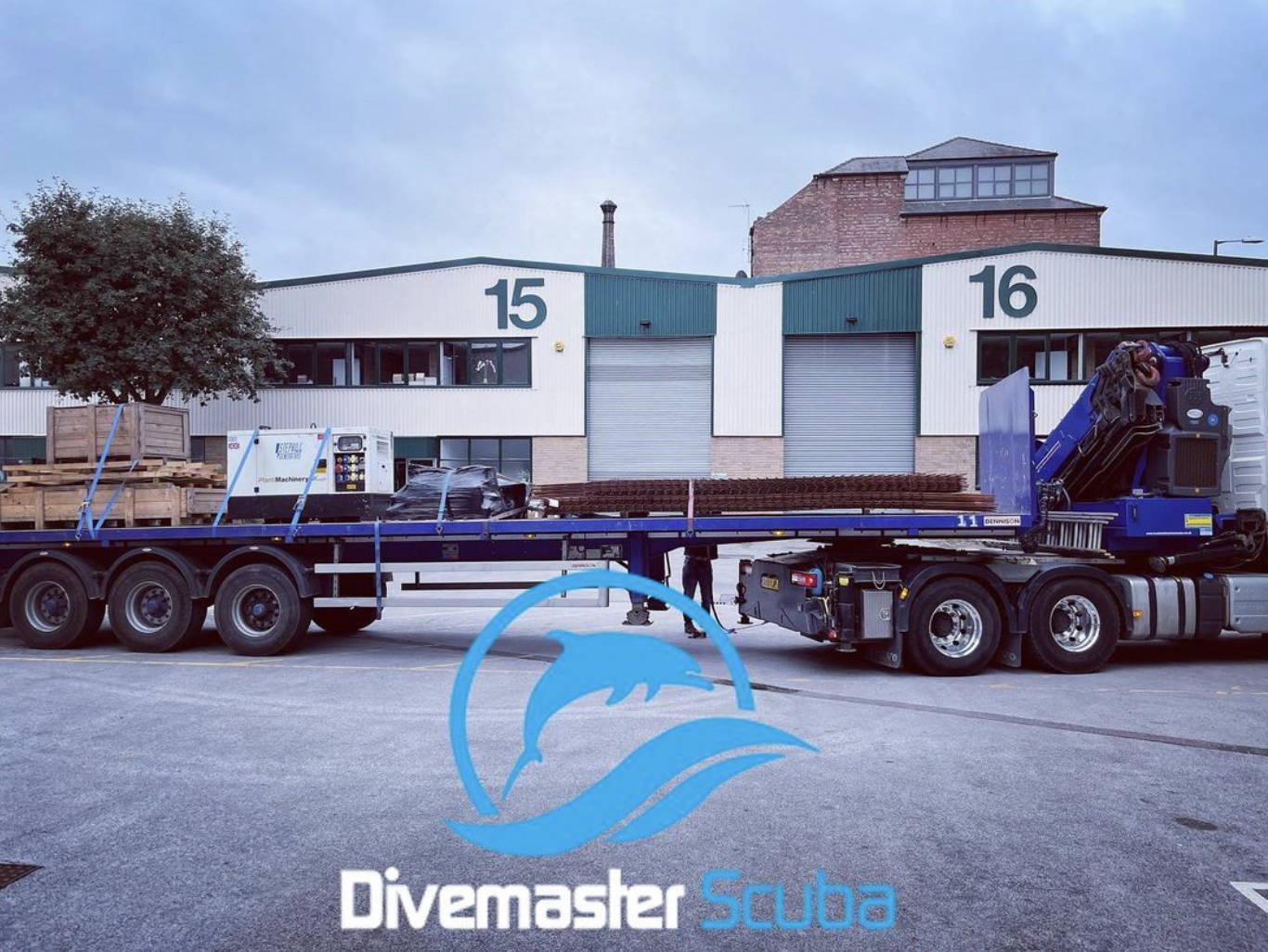 On the 8th of August 2021 the pool arrived on HGV, and we knew something amazing had started. The installation took 5 days and included a bolting a bottom starter ring to the floor that would be half filled with the seal pour then 3 x 1.5m steel rings made of 11 Sheets of Chemical resistant coated steel. All the joints have many bolts and lots and lots of silicone to ensure watertightness. The pool is built from the top down and each ring was lifted up so the next ring could be installed underneath. It was commissioned as holding 178m3 of water on 14th August.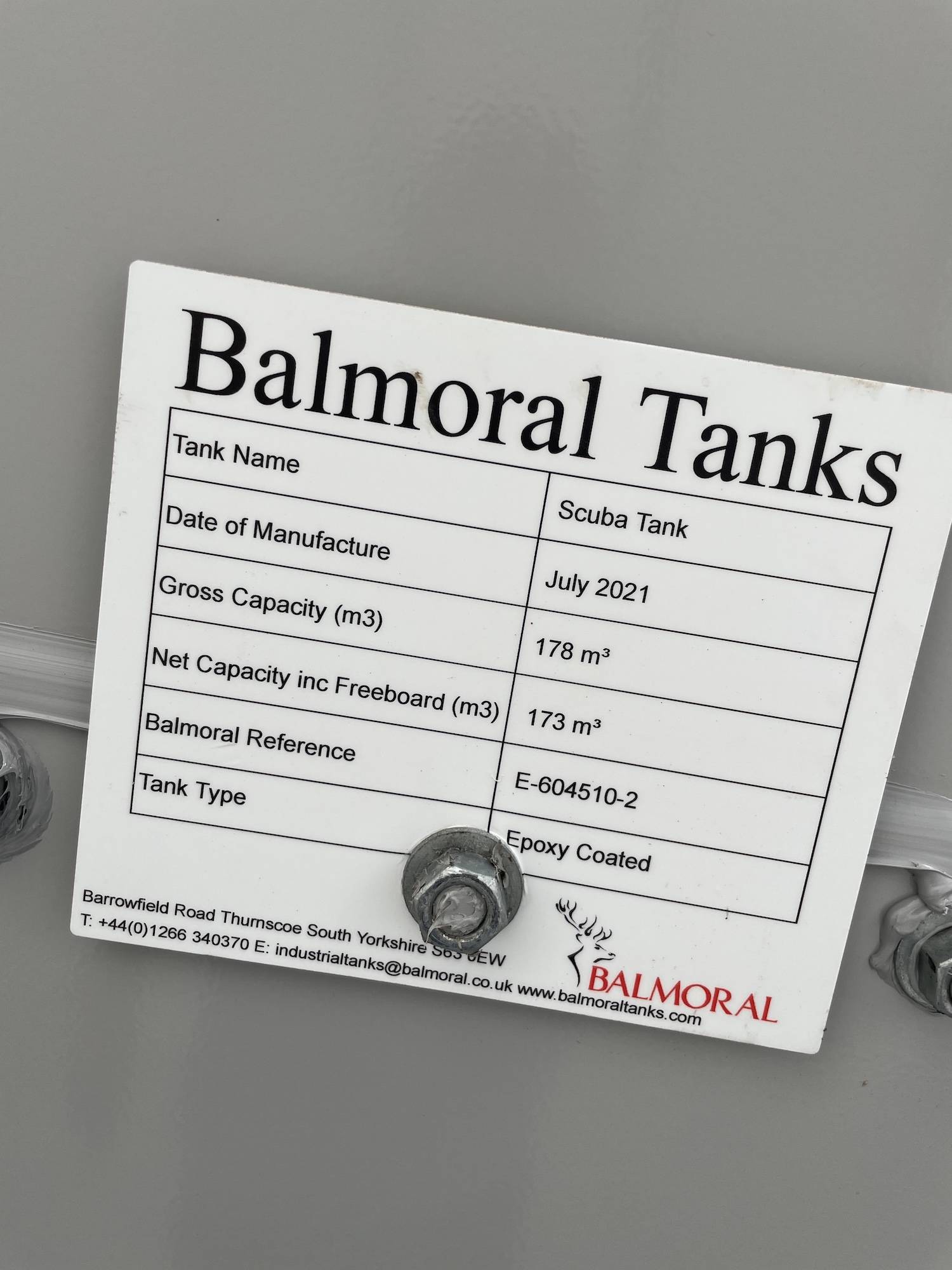 One interesting point is that we needed to fit a manway (access door) in the bottom of the pool. This is obviously a big hazard and potential leak point as well as adding almost £1.5k to the project. This was required for Health and Safety in the event someone fell in the pool while it was empty and might need removing on a stretcher.
Once built, we moved quickly started the mezzanine project. We had to change from a steel construction to a wooden one due to the massively increasing materials prices. When we started the project, the quote for mezzanine was £39k and when we were ready for building it had raised to £54k. Although it was very expensive, it would give a big saving even after including the labour. We needed to have some structural calculations done to specify timber sizes etc but we could start immediately. This part of the project went smoothly, and we had a floor and walls for the pool hall within 3 weeks.
That's when the rain came…
 We noticed a significant leak in the roof of the building. It was something we originally noticed prior to taking the building over and had been assured by the owner was fixed. What transpired was the next 6 months of legal battles and multiple tries at repairing the roof, with the landlord saying I must remove the pool and the mezzanine so they could access the roof. A serious collapse of the roof October 2021 put half of the building in a danger zone, and we could not allow staff to access. This was our biggest setback. In total we lost 7 months and over £100k to have the roof issue resolved. We really thought the whole project was dead and that we would need to leave the building even if we could find the money to continue. Adam decided that he could not have that happen, and knew the only option was to put the project on hold and go traveling to teach and earn enough money to see the project to the end.
With the roof issue solved and Adam back from travelling, the project was pushed again in April and May of 22. We planned an opening for June 22 and started to fit out with equipment for the plant room. The pool is to be used for a lot of activities, from scuba diving, swimming lessons to kids' classes, freediving, TV/film work and much more. To accommodate this, we over specified everything the plant room contains 2 huge 36" Certikin filters each containing 375kg of filter media and filtering 31m3 of water per hour each. The pool temperature is maintained by a Calorex Variheat 3 air handling and water heating unit. It takes the pool air, dehumidifies it, and mixes it with fresh air before reheating and blowing into the pool room. It also heats the water of the pool via a heat exchanger. As Technical Divers we could not allow the pool heating to not be redundant so we installed another 70kw inline heat exchanger that can be used in parallel or instead of the Calorex. We have set the pool temperature to 29 degrees and the pool hall air temperature to 31 degrees, keeping the air warmer than the water will reduce the evaporation and condensation while making it comfortable when in just swimming kit.
We then had to think about pool chemicals. Lots of home pools work off rules of thumb or "that's about enough", as a commercial operation we could not allow that. We needed to be sure the pool was clean and safe. We invested in an Aseko Asin Aqua Dosing system. It adds chlorine (to disinfect the pool), acid (to bring the PH down), algicide (to remove algae) and flocculent (to clump up suspended particles). These chemicals are mixed and tested; we need to test for free chlorine levels as a commercial facility, so a more expensive probe was added. Having the app connected on our phones mean we can be confident the pool is always safe and ready for divers and swimmers and if not take immediate action.
The pool was getting close to completion and so was our opening. We knew as the date approached that we would not make it. The pool hall flooring had been delayed 5 times and the first fitting was terrible quality. Add to that we could not find a suitable material to make the pool tops from, and entry and exit stair prices were shooting up we pushed the deadline back, but we had no idea how long these finishing touches would take… by opening date, we had pushed the opening back 5 more times. Alongside the build of the pool, we build a new 90m2 showroom/dive shop, 120m of new workshop space for servicing, drysuit servicing, cylinder testing and electrical service works plus continued to run our day-to-day dive centre activities.
Honestly, things were starting to get strained. By mid-August the end was in sight, but no testing had been done and there was still no water in the pool. Buy this time labour and materials were eye-watering – as an example the stainless-steel steps and platform for entry we had designed were now £8k in materials alone, the 150x150 316 stainless box section was £1200 per length and we needed 3 of them. The platform we wanted for shallow water training had gone up 250% ish. We had a meeting with the builder and staff and after a lot of searching found options that would allow us to have what we want and finish the pool for an acceptable price. We pushed on.
The last week of August we started to see the light at the end of the tunnel, and we ordered a metered standpipe from Severn Trent. The problem was now how to get the water from the washout hydrant 150m away in the middle of a busy carpark into the pool. A good friend of the business saved us a fortune by lending us enough lay flat 70mm hose to do the job. On August 30th after some discussions with our neighbours, we started the filling process at 5pm. The water would seem to flow at an incredible rate, but the pool level only inched up. Adam stayed until 4am when it was finally full! Obviously, he went for the first dive too! It was a chilly 14 degrees but crystal clear and quite an emotional time, all that hard work, expense and sacrifice had finally resulted in what felt amazing.
Now the work really begins, testing and commissioning! We started at 7am the next morning, both boilers and both filters were set to full, the pool took 6 days to get to the right temperature and chemical level. But now we had to open it up to the world, the booking system needed to be sorted, the timings for new sessions agreed, the staff trained, policies and procedures finalised, and safety, fire and emergency signage and equipment needed installing. However, we are happy to finally say we are ready and cannot wait to welcome you.
We want everyone to enjoy this facility.
• Divers can book online for Scuba skills updates, single fun sessions to test kit, meet friends or keep active and social events.
• Independent instructors and other dive clubs can book half a pool, full pool, or session rental.
• Our diver training is now offered more often and can be on a schedule to suit your schedule. Technical, CCR and SCR try dives and training now can happen almost any time.
• We hope to have our freediving arm of the business up and running soon with a full freediving club, training, and event schedule.
• Our Scuba Explorers kids' sessions will be a daily occurrence after school to bring the youngest of divers into the sport.
• We will have mermaiding, swimming, canoeing and lifeguard training.
• Media, TV, and commercial companies can rent the pool for their own purpose.
And we have much much more planned.